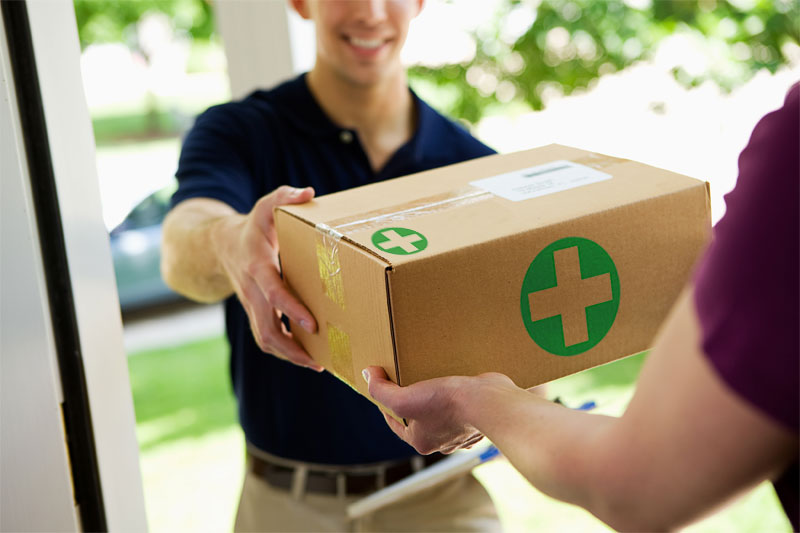 In many of the states where recreational and/or medical marijuana is legal, many companies that provide the plant are beginning to offer a weed delivery service. Much like the process by which people buy products off of Amazon, these services allow consumers to shop online, verify their age or ability to consume medical marijuana legally, pay for their marijuana, and have it delivered. The product is then shipped to their home discreetly at a time and date of their choosing.
This process is becoming popular for all of the known reasons, namely that it's affordable, it's convenient, it's secure, and it saves consumers a huge amount of time. They never again have to go to their dispensary, wait in line, and fight traffic on the way home. Instead, they can simply pick out the marijuana products they want online and have them show up at their home at a regular date and time.
As you might imagine, lots of companies offering marijuana delivery are springing up in states where consumption of marijuana is legal. Thus, figuring out which company to buy from can be a difficult process because there are so many different options to choose from. Here are five things to look for in a weed delivery service. This list should help you find the best company in your city.
1. Discreet Delivery. The first thing to look for in a weed delivery company is that they offer discreet delivery. This means that their boxes aren't marked and that they'll deliver specifically when you ask them to. While it's certainly not a big deal in states where marijuana delivery is legal, there's simply no reason to draw unwanted attention to yourself and your home.
2. Affordable Prices. As with your regular dispensary, it's wise to find a weed delivery service that offers affordable prices on their marijuana products. Use the Internet to compare prices and find a delivery service that's affordable for you.
3. Consistency. You should be able to find a weed delivery service that offers consistency. This means that the marijuana they bring to you is consistently of a high quality.
4. Reliability. Fourth, try and find a weed delivery service that's reliable. If they say that they're going to be at your home at a certain time on a certain day then they'd better be there. The convenience of having your marijuana delivered is lost when you're stuck waiting hours for them to show up.
5. Commitment to Security. Finally, you need to make sure the marijuana delivery service you choose is fully committed to security. This means that they only deliver when they say they're going to so you can be there to pick it up, that their boxes aren't marked so people aren't encouraged to steal them, and that they offer the option for signed delivery only.
Flash Buds is one of a few companies in the great state of California that offers all five of these things. Click on their name to visit their website and get started today.